What is Hair Regeneration?
Hair Regeneration is a treatment for thinning hair and hair loss hair treatment using adult stem cell based wound-healing materials developed by Dr. Amiya Prasad. Dr. Prasad's Hair Regeneration is customized in terms of concentrations, areas treated, depth of treatment and technique. The materials used for Dr. Prasad's Hair Regeneration treatment include:
- Extracellular matrix (ECM) made by ACell, a wound healing material that recruits adult stem cells to duplicate human tissue like skin and muscle. When used in treating hair loss, ECM appears to clinically restore the necessary cells responsible for hair growth.
- Platelet-rich plasma  (PRP)- the isolated serum from a patient's own blood that contains concentrated healing and growth factors. PRP is used in regenerative medicine applications in oral surgery, orthopedic surgery and cosmetic surgery.
- Vitamin D – the nutrient demonstrated by University of Tokyo to increase transformation of cells in tissue culture to transplantable hair follicles.
- Other materials customized to the patient's cause of hair loss such as anti-inflammatory medication.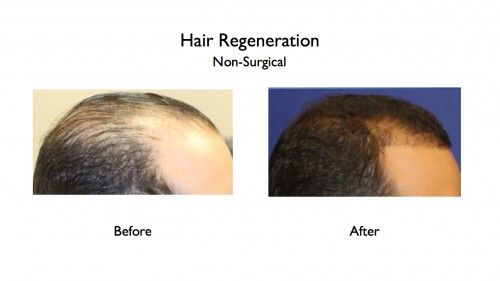 Contact Us About Hair Regeneration
How Does Hair Regeneration Work?
Hair Regeneration appears to reverse the hair thinning cycle and stops continued hair loss when injected into the skin at different levels including the dermal and fatty layer.  It appears that Dr. Prasad's Hair Regeneration system helps the body's production of hair follicle adult stem cells called progenitor cells. Progenitor cells are known to decrease in people who are suffering from hair loss as published by studies from the University of Pennsylvania. This Hair Regeneration appears to restore the cells and signals that are sent from the dermal papillae to the bulge area of the hair follicles to produce and continue growing hair. Hair that was previously thinning and weak grows progressively thicker and stronger.  It has also been observed that hair that were gray, after treatment become darker. The hair follicles become healthier and more active, producing thicker and thicker hair. This reverses the previous hair loss problem where the hair follicle activity lessened and hair became progressively thinner.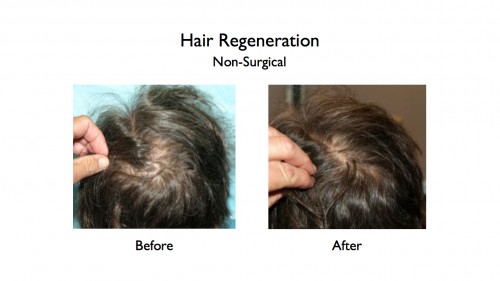 In reviewing treatment data, at this time Dr. Prasad's The Hair Regeneration treatment is effective in 99% of male pattern hair loss patients and about 80% of female pattern hair loss patients. The treatment itself takes about 2 hours. Reviewing 5 years of clinical data, a single treatment appears to be all that is needed. Dr. Prasad has been performing second treatments in select patients.
Hair Transplant Replacement and Hair Transplant Enhancement
The Hair Regeneration treatment is so effective in thickening hair that many people who undergo the treatment don't feel they need a hair transplant. Dr. Prasad performs hair transplant in patients with more advanced hair loss.  The Hair Regeneration system makes hair transplant surgery more successful by:
1)     improving graft survival
2)     thickening hair that was thinning
3)     improving donor area healing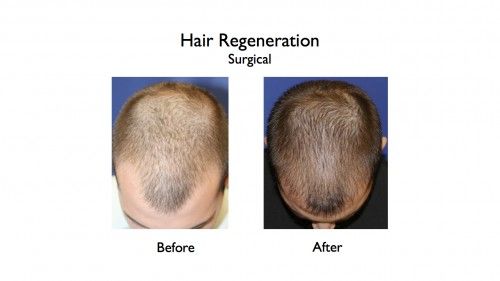 - This combination of wound healing materials in Hair Regeneration is used in the healing the donor area scar at the back of the head from follicular unit transplantation (FUT) as well as follicular unit extraction (FUE).
- Hair Regeneration can stop progressive, future hair loss – an important issue that hair transplant alone does not address.
- Hair Regeneration's wound healing components improves the healing of transplanted hair follicles, thereby increasing the survival rate of transplanted hair grafts.
Applying expertise in surgery and wound healing to hair thinning
Hands-on cosmetic and reconstructive surgery experience with ECM by ACell has helped Dr. Prasad develop new methods for treating hair thinning. Dr. Prasad was the first doctor to apply the automated micro-needling technique to enhance the activity of the ECM to restore thinning hair in January of 2012. This helped his patients significantly in restoring volume and thickness to hair that was thinning.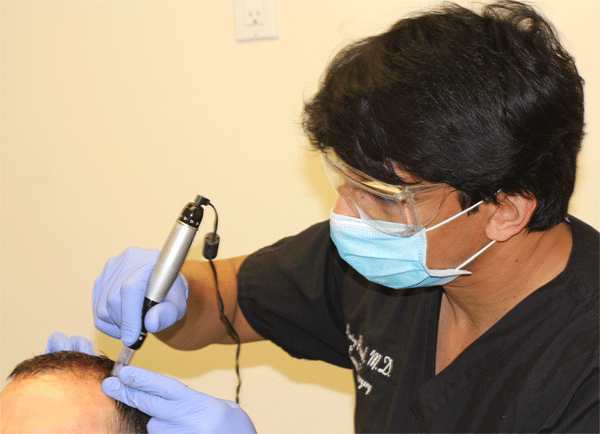 Dr. Prasad customizes the depth and density of his micro-needling technique based on methods from his surgical experience.
Click here for transcript.
This informational presentation is about hair regeneration.
Are you of someone you know is suffering from Hair loss or thinning hair?
Did you know that men can start losing their hair as their early as their teen years? And that it's been estimated that 30% of women suffer from hair loss under the age of 50 and that percentage rises up to 50% over the age of 50. For men, traditional medical therapy has included Minoxidil and finasteride. For women, the medical treatment has been limited to minoxidil. Although medical therapy has helped many people, there has been a need for more options to help people suffering from thinning hair.
The search for a cure for hair loss has challenged physicians and research scientists for decades. In this presentation, you will learn about the pioneering application of a remarkable wound healing technology to help people suffering from hair loss. This presentation is for informational purposes and is not a substitute for proper medical examination.
Dr. Amiya Prasad, a highly respected cosmetic and reconstructive surgeon, has worked for several years developing a medical treatment for thinning hair using a material called extracellular matrix. As a multispecialty surgeon, Dr. Amiya Prasad has applied extracellular matrix technology to surgical procedures for eyes, ears, facelifts, reconstructive surgery, body procedures and hair transplant surgery. Focused in helping men and women with thinning hair, Dr. Prasad developed his own combination of extracellular matrix, platelet-rich plasma, Vitamin D and other materials to help people with thinning hair.
How does it work? In the past few years, advancement in wound healing technology such extracellular matrix or ECM has helped surgeons like Dr. Prasad help patients with complex problems. When this material was used in hair transplant surgery, it was observed that thinning hair actually became thicker. Dr. Prasad combined his surgical knowledge using ECM with the latest researches from top universities such as the University of Pennsylvania, Yale University and the University of Tokyo to create his own formulation and delivery methods to help men and women with thinning hair.
Based on recent scientific studies, the cells and signals between the cells that produce the hair, stop working resulting in hair thinning and eventually hair loss. The clinical evidence indicates that this advanced wound healing technology combined with Dr. Prasad's techniques restarts the cells and necessary signals to restore the hair growth cycle.
Dr. Prasad has helped people who have come from all over the world.
Dr. Prasad:
The work I've done has helped people think differently about hair thinning. For decade after decade, the hair transplant industry seems committed to sell surgical procedures and not managing patients. These so-called hair transplant specialists focus on patients to come back for more surgery knowing that the patients would continue to lose hair and need more procedures to keep up with their appearance. We now have an opportunity to change the conversation about hair thinning and apply hair regeneration as a way to restore your hair without surgery. This doesn't mean that hair transplantation is obsolete but a significant percentage of people with thinning hair can benefit from hair regeneration.
So what is the treatment?
First, you will meet our staff and have detailed medical examination including medical photography and microscopic examination. Your treatment options and suggested plan will be explained and discussed thoroughly. Once it has been determined that you are a suitable candidate, the clinical team will begin the process. You will have a simple blood draw like you would have a routine laboratory test. As your platelet-rich plasma is being prepared and mixed with the extracellular matrix and other materials customized for you, a topical anesthetic cream is applied to your scalp. The area to be treated is made numb and then you have your treatment. Most clients go back to work and normal activities the next day.
After your treatment, you will receive instructions. The staff, including your doctor, is always available to you 24 hours a day. You will be scheduled for follow-up examinations but you will be welcomed to come back as often as you like if you have any concerns.
To learn if hair regeneration can help you, contact the offices at (212) 265-8877 24 hours a day or visit www.nyhairloss.com and complete a contact form.
Regenerative Cosmetic and Reconstructive Surgery to Hair Regeneration
Dr. Amiya Prasad has used several methods to apply ECM (extracellular matrix) to enhance cosmetic and reconstruction surgery for advanced healing and scar reduction.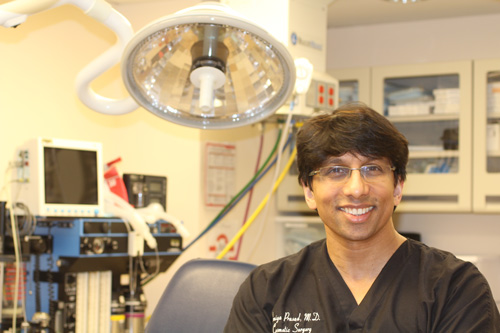 Earlobe and cartilage regeneration
A man who had cancer affecting his ear required removal of a significant part of the ear to clear the cancer. Although tissue regeneration in many parts of the body had been done previously, this type of tissue regeneration had not been done before.
Dr. Prasad applied his surgical knowledge and experience and has helped this man literally regrow ear tissue.
| | |
| --- | --- |
| | |
| The earlobe and ear cartilage was removed to prevent spread of cancer. | Dr. Prasad performs surgery using ECM by ACell to regenerate skin and cartilage to regrow ear tissue. |
Dr. Prasad's reconstructive methods using ECM regrows ear tissue
Regenerative Cosmetic Surgery
Dr. Prasad applies his knowledge and experience with ECM by ACell to enhance his cosmetic surgery procedures
such as facelift surgery
Dr. Prasad applied ECM by ACell with his surgical technique to improve healing.
This facelift incision appears healed at 2 weeks as if it had healed for more than 2 months
Click here for transcript.
Ever Heal? Also Bad Looking Scar on Face Not Where Stitches Were Even Put?
I had a mini face lift about 5 weeks ago by a Plastic surgeon. I have seen that his work is normally very good. However, I think my ears are a mess. I still have scabs that are not healing at the back. I was on antibiotic cream until the 4th week and was asked to put on Hydrocortisone until the 5th week. I am due to see the plastic surgeon soon. I think this is going to scar badly. 1 week after operation, a scab came in front of the ear. The Plastic Surgeon said that this will fall off eventually and said that the scar would be okay after 2 weeks but then, it has gotten worse since. Do I have pixie ears and is the scar bad?
Thank you for your question!
You had a mini lift few weeks before you submitted your question and you sent some very good photos of areas of scabbing. And your doctor has been staying on top of this with you as far as preventing infection with antibiotic creams as well as the use of topical hydrocortisone. So you asked a couple of questions. One is do you have a pixie ear and two is about whether these are going to heal badly .
Well, first we got to understand what is likely happening as far as your healing process. The thing about face lifting surgery is that the very edge of the skin flap, the very end were the sutures have done along the ear, is the area that has the least amount of oxygen or blood supply by nature of the separation of the skin. So it's very important that proper bloody supply be there. Now, even in patients who are non-smokers, sometimes there can be some compromise. And so one of the things I make sure that my patients know about is to avoid smoking. And if people who are and ofcourse in your question you didn't mention anything about history of smoking, but just to illustrate the concept of anything that compromises the blood supply can potentially cause the this to have stress and develop a compromising integrity.
OKay, so what is likely the situiation is there is some compromise of the blood supply in the skin flap and that you are dealing with this breakdown of the skin and the result is scabbing because it's bleeding. And so, it's very critical at the time when there is a scabbing period and there is a compromise that we prevent any antibacterial infections. So of course, certainly your surgeon is right on track with you.
As far as whether or not you have a pixie ear, pixie ear by definition is an earlobe that tends to be pulled downward. And so that's why it's called pixie ear because it looks like a little point. And so from thephoto you submitted of your left ear which looks rounded and I can't say that you have a pixie ear.
As far as the skin healing future, I can tell you that even with some patients who are smokers or ex-smokers who develop necrosis, where things turn black and become really compromised, there are a lot of patients who do pretty well despite having problems with skin healing. And there are certainly things that can be done. In my practice, I happen to be a fortunate in having a lot of experience with the material called extracellular matrix which we use in our incisions to help the healing process and it heals by duplication of the normal cells so that the incision lines heal beautifully. And in a situation like yours, it really sounds like your surgeon is right on track. And it's basically a matter of time to see how things heal.
So I wouldn't say that your future is bleak at all I think that you should continue working with your surgeon as far as managing these issues and make sure you avoid touching those areas too much. Wash your hands frequently and as soon as this all settles out, typically we would wait at about 6 months before planning any type revisional work or any type of other interventions to help with the cosmetic appearance. So again, it is very good that you're protecting the skin and having close coordination with your surgeon and wait this out and hopefully things will get better and ultimately you should do well. So I hope that was helpful and thank you for your question.
Click here for transcript.
Scarring After my Eye Lid Surgery?
I had upper and lower eye lid surgery 9 weeks ago and I can see a scar forming in both the upper eye lid area close to the tear duct towards the lower eye lids. My surgeon told me this does not happen usually. He injected me with diluted cortisone three times already but I see no difference. Please help me I am very scared. I am not happy with the results. Is this normal? Thank you
Doctor:
Thank you for your question!
You submitted a question with a photo where you have shown what appears to be the appearance of webs that results after eyelid surgery from the end of the incision, inner aspect of the upper eyelids, creating a web. And what you are describing that your surgeon is treating this with cortisone injection. So naturally you're concerned. And I'll give a little bit of perspective on what the situation probably is just with the photos alone, of course, with the absence of physical examination.
Well, this type of fold or web can happen in different case scenarios. And probably the most common scenario is when the skin in the inner aspect below the medial part or the inner aspect of the incision is relatively loose. So, when the upper eyelid surgery was done, a certain amount of skin was removed and was closed where it should be but because of some of the dynamics of tension, sometimes a fold can occur which tends-up the skin. Now this scenario could be where the transition between eyelid skin and nasal skin and such that the incision can heal a little aggressively and become thickened. And other scenarios are such where the incision line in the location can play a role in the way the skin heals.
So, typically, this type of web development in the inner aspect of the eyelid is generally managed conservatively. And by conservatively, it is generally through massage and through, like your surgeon is doing, some type of steroid or anti-scarring injection. Now, this does require some time and observation. Generally, when I see patients who have this, and I would wait until a certain amount of healing has occurred to ensure the most active part of healing, where the beginning of the wound-ealing cycle, the initial healing process, the collagen remodeling is such that things are beginning to get a little tight and there's a lot of extra collagen until there's a softening or a change or remodeling of the collagen. So usually, that's several months after surgery.
If I were to approach someone like yourself, if you were to come to my office having this history, having done surgery elsewhere and then having this issue, I would probably wait around 6 months before pursuing a different procedure in order to flatten those out.
Now, just for your education, the procedure that is done when there is a web is something called z-plasty. Now z-plasty is taking advantage of certain geometric rules such that when the skin has relative shortage about 1 dimension that we can move skin in such a way that elongates of gives an absolute amount of more skin to compensate for the tension. Now that is looking further into the future.
But a far as your question is concerned about how things are being managed, certainly your surgeon is doing what most cosmetic surgeons would do in a similar situation. So I think that in this point, you continue communicating with your doctor, continue complying with the follow-up care. If you are not doing massage, discuss with your doctor if massage will be helpful and if this persists, then a surgical procedure may be necessary such as what is called a z-plasty. So I hope that was helpful and thank you for your question.
About ACell
ACell's extracellular matrix (ECM) attracts adult stem cells to the site of injury such as hair transplantation and converts them into active progenitor cells. It also sets up a non-crosslinked temporary scaffolding for the tissue reconstruction mimicking the surrounding healthy but damaged tissue. This scaffolding contains and slowly releases growth factors (VEGF etc.). The ECM also contains an abundance of necessary materials for remodeling including collagen IV.
This process has resulted in increased hair counts in the grafts in the recipient area (increased hair density) plus remarkable healing in the donor area.

Much has been written as about the use of PRP (platelet-rich plasma) injections to slow down or stop balding as well as to re-grow miniaturizing scalp hairs. A lot of the early reports indicated variable successes attributed to the fact that there are significant vital proteins (Collagen IV etc.) as well as multiple growth factors (i.e: VGRF) that are vital to terminal hairs along with hair survival and enhancement in general. PRP may enhance hair growth activity but it does not appear to affect the miniaturization of hair associated with male and female pattern hair loss.
What Is ACell's Extracellular Matrix (ECM)?
Extracellular matrix (ECM), produced by ACell, is the by-product of urinary bladder tissue that has proven regenerative properties. The product is stripped of all cells as well as muscle tissue to prevent graft vs. host reactions (allergic reactions) when introduced in humans. The way it works (in wound healing) is by recruiting
adult stem cells along with increased  blood supply to the sight of a wound. It then effectively changes these inactive adult stem cells back into progenitor cells (the active form) to direct healing by duplication of native tissue instead of scar tissue.
ACell's ECM also provides  growth factors and proteins necessary for tissue regeneration as well as a scaffold on which to reconstruct the tissue. The scaffold is metabolized allowing the healing and regeneration to be carried out by one's own cells and tissue.
Platelet-Rich Plasma (PRP) prepared and ready to mix with the ACell's Extracellular Matrix (ECM)
Why Extracellular Matrix for Hair Restoration?
Click here for transcript.
Would I Benefit from Hair Transplantation to Reduce Forehead?
I always had high forehead, but after health problems I lost more hair due to general anastasia and antibiotics. I'm using Minoxidil now 2% for 3 months and it's getting a little better, but still I would like to do hair transplantation to reduce my forehead later. Do you think I will benefit from it and will the results be natural, without visible scars? Approximately how much will it cost in my case? In the picture attached I drew the line to show how much I would like it to get reduced.
Doctor:
Thank you for your question!
You have submitted a very good detailed history of your hair loss as well as good photos to help us understand what your goals are. And I appreciate of course the lines that you drew of the way you want your hair line to be.
Well, when someone like you come to our practice, I'm going to just give you an idea what typically is the process. First of all, we have to be clear on diagnosis there are some elements of your hair loss history that is a little bit unusual in terms of the history of someone who has female pattern hair loss so lets go back a little there are 2 types of hair loss that makes up 95% of all hair loss 1 is male pattern hair loss 2 female pattern hair loss the other categories of hair loss is something to do with inflammation or scaring. So when someone like you come with a history with this type of hair loss related to anesthesia and antibiotics, I just want to be sure that you have the female pattern hair loss that it may sound like that you may have diagnosed with.
Now female pattern hair loss is more defused thinning of hair compared to male pattern hair loss which is more about residing hair lines in the temple as well as in the thinning of the crown. With women, it's defused and you see widening of the part and certainly the thing that makes me a little bit concerned is your hair line that you want is actually lower than what you always have. You said you have naturally have high hair line and I wonder if there is any recession of your hair line as part of your history. Sometimes women can have temporal residing of their hair and often looks like a mixed picture of both male and female pattern hair loss so if there are anything that would concern me, I would do a biopsy and a biopsy means using a what's called a circular punch which is about 2-3 mm in diameter and taking several representatives section of the scalps that are out of plane site so it wouldn't be obvious and sending it to a pathology lab. We use a very highly respected University pathology lab so that we are sure about the diagnosis.
Now as far as making decisions on achieving your goal, we have to understand the concept of how we do hair transplantation. Hair transplantation in the simplest terms is the movement of genetically resisted hair. These are hairs that don't tend to thin which is usually at the back of the head in the middle portion were even in the most severely bald man or advanced hair loss. Women will still have a rim of hair that hair is taken out as strip and individual hair follicles are isolated and then placed in the front. Now the success of the hair transplant is dependent on how much density you have in your donor area, how thick those individual hairs are and of course how much coverage we want to achieve. Then when you move your hair line forward, like that you want to be able to fill the area but you won't get the density with 1 hair transplant in my practice.
When someone wants to move the hair line forward, I tend to be very conservative about how we want to do that. We actually apply some other technology which I will discuss later on but briefly, I'll try to explain where you see your hair line is the place the hair is thick but we can see finer hairs and maybe move the hair line a few mm based on what the yield is from the strip that we harvest and how much density we can achieve in hair transplantation surgery. Fortunately is one of the area where there is a lot of mixed messages, unfortunately, hair transplantation is not the same type of specialty like cardiology where there is a standard residency fellowship training. People have gone into hair transplantation or hair restoration from doing other specialties maybe never even completing a residencies and completing a fellowship. It's a very scenario that is for the first 20+ years was kind of a fringe specialties with a lot of unusual characters working in it. So essentially a lot of this doctors basically are in the business in just doing transplantation and don't really concern themselves very much with proper diagnosis, management and other things that are more formally trade than ethical doctors tend to do.
So it is important to at least understand that when you're doing your research so it in terms with your game plan, I would also add something relatively unique to our practice and that is the application of a regenerative medicine technology. You see when people do transplant it is great to say I transplanted X number of hairs but unfortunately a percentage of those hairs don't make it. In fact, we have seen in our practice who come to our referral who have had transplants where they got mega sessions where it was huge in numbers. And when I look at their result, I barely saw any hair and there are so many factors that can cause that. Very often has to do with bleeding, blood pressure and just the way the tissues are manipulated.
Unfortunately, it's not such a straight forward procedure that were people want up each other were patient will go shopping and one transplant doctor will say I'll move a thousand hairs and the next transplant doctor will say ill do the same and will cost 12000. Hairs doesn't work like that. There is an understanding of tissues that unfortunately a lot of transplant doctors don't understand. Being a multi specialty cosmetic reconstructive surgeon, I understand a lot of this because I have done this work at other areas of the body. And I have a different sense of surgery so I can understand the tissue tolerates is a factor in this.
Now that understanding, we have applied a concept of regenerative medicine using a material called extracellular matrix that's derived from the pig bladder and it's made by a company called ACEL. Now this material does it allows healing and the activation of the adult stem cells such that there is virtually no scar tissues but rather healing by duplication of native tissue. In so many ways it accelerates the healing process and what we have seen clinically is that the yield of our hair transplants have been significantly enhanced. Not only we are getting number grafts that we placed but actually see increased density greater than the number and now let's explain a little bit about that. It turns out based on what our clinical observation has been that the extracellular matrix combined with platelet-rich plasma appears to successfully reverse the thinning process of hairloss so hair that is thinning turns around thickening and the progression halts.
Now the interesting thing about the clinical medicine is that we find things that work and then we look to basic science to explain it and this has happened a lot in many areas for example the commonly drug used minoxidil for topical use was actually discovered a hair loss solution starting from a i believe it was a letter that was written in the journal medicine where a doctor noticed a patient treated with a blood pressure medication called Minoxidil actually started to grow hair. So the serendipitous discovery of benefit is very often the source of great things that happen in medicine.
So in our situation, we have been able to transfer the advanced healing that's used for hair loss or hair transplantation and applied to hair thinning. So my game plan for you is also factoring in what is the future of your hairline. You see, you make an assumption that your hairline will stay where it is and it won't recede any further but we have to think about the future. If you go to any restaurant, you'd find any man who've has a hair line who's in their 60's over here that looks pluggy and that's why hair transplant has a bad reputation is that people think of plugs. And why does he have plugs? Well, he had hair next to those plugs where unfortunately was not able to take any medications or medical treatment or to follow up surgery and he ended up losing hair and that's all that's lefts.
So in planning your surgery, I would employ a regenerative surgery and adjust the procedure based on the yield and the quality of the hair that come out during the harvesting. So at this point, your job is to do more research and meet with hair restoration specialist, do not shop on price, don't shop on wild claims. But get the sense of the ethics and understanding of the hair physiology. It's important that you understand that the doctor should have a clear appreciation and understanding of the process you're going through and making sure that you have a proper diagnosis and being realistic and rational about the treatment plan for you. Most likely you will need two transplant sessions in order to get close to the hairline you want. Remember, it's just not about placing the hairs, it's about achieving the density. So to recap, we discussed the proper planning of transplantation and proper diagnosis of the hair loss condition and the application of regenerative medicine for hair treatment. So I know that was a long answer but I hope that helped you make your decision. Thank you for your question!
Extracellular matrix is unique in that it is bi-modal and contains a basement membrane necessary to attract and propagate both epithelial and endothelial cells that are necessary elements for duplication and restructuring of skin and hairs. Extracellular matrix works by setting up a temporary cellular scaffold or bridge and then by attracting massive blood supply plus Adult Stem Cells (there are large numbers of inactive adult stem cells circulating in all humans after we are born) to the site of injury where they are converted back into progenitor cells.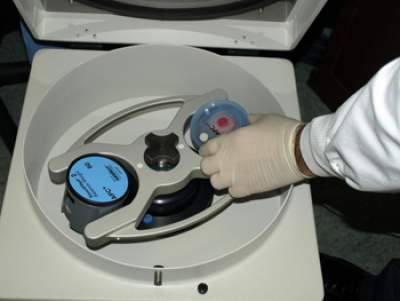 Preparation of the PRP
Extracellular matrix also contains more than ample amounts of the necessary proteins and growth factors to reconstruct and copy tissue along with nerves and appendages (hair for example). Recently it has been shown that PRP (as well as, we suspect, the serum from spun down arterial blood) contain large numbers of adult stem cells. By premixing the ECM with either the arterial serum (or more easily the PRP in a non-surgical patient) we are skipping the step of waiting for the adult stem cells to migrate to the injection sites and in essence pre-activating the injections. The injection sites serve as microwounds, which ECM requires to begin the healing (duplication) process. In our opinion, wounds cannot be superficial, but rather, must be down to the subcutaneous tissue level in order to maximize effectiveness.
Schedule An Appointment Today!
To schedule a consultation with Dr. Prasad to determine the best procedure for you, submit the form below or call our Manhattan office at (646) 461-8547 or Garden City Long Island Office at (516) 535-9479. Our phones are open 24 Hours a Day / 7 Days a Week. Patient Financing options available for qualified candidates.