Leadership in Hair Restoration and
ACell + PRP Hair Loss Therapy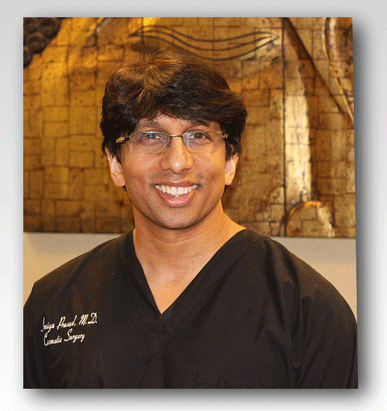 Prominent New York cosmetic surgeon
Amiya Prasad, M.D. developed The Hair Regeneration System for thinning hair in men and women. His application of ECM (extracellular matrix) made by ACell and platelet-rich plasma (PRP) for hair restoration has become the most sought after hair loss treatment at Prasad Cosmetic Surgery.  As a multi-specialty board certified surgeon, Dr. Prasad's unique insight in the application of ECM by ACell for his surgical patients enabled him to advance the formulation and delivery techniques to treat hair loss helping men and women from around the world. Prasad Cosmetic Surgery has two Joint Commission certified practices located in Manhattan, Upper East Side and on Long Island in Garden City, NY.
Hair Regeneration on Fox News 5 NY
Click here for transcript.
Hair Regeneration
Ernie Anastos: We have hairy situation here, hair regeneration, like you have never seen this before.
Dari Alexander: Fox 5′s Kerry Drew shows us one treatment that lets you use your own blood to grow back your hair. Take a look.
Paul: These past few years, I've noticed, you know looking at the mirror, especially looking at old photos that my hair was thinning and receding.
Kerry: Paul Gioe says that he felt self-conscious about a section of thinning hair on the back of his head.
Paul: Looking at my family, there are some people there that don't have any hair and I know how it progressed through them and I could, in a way, predict what the future holds for me.
Kerry: So Paul did some research and came across cosmetic surgeon, Dr. Amiya Prasad, who specializes in a procedure called Hair Regeneration.
Dr. Prasad: We can't bring back hairs that are gone, but we can take hairs that are thinning and make them thicker.
Kerry: The treatment is unique. Through the use of the patient's own blood, it generates growth of new hair.
Dr. Prasad: What we're using is a material called extra cellular matrix and we're combining this with platelet rich plasma. Platelet-rich plasma is derived from your own blood. We customize the formulation and inject it into the scalp. And what seems to occur is a wound-healing mechanism that results in reversal of hair thinning.
Kerry: To begin, Dr. Prasad examines Paul's head under a microscope, to figure out where the injections will go.
Dr. Prasad: This is the area that will respond nicely to the treatment.
Kerry: Then Paul gets his blood drawn, and that same blood will be used for about 100 injections all over his scalp. Dr. Prasad said he has perfected this procedure over the past few years, and the results have been amazing.
Dr. Prasad: If there is one solution for male pattern hair loss that's almost close to 100 percent in our clinical experience, it's been doing this hair regeneration treatment.
Kerry: The one-time treatment costs about $5,000. It is not as effective for men and women with significant hair loss or those who are totally bald. As for Paul, he should start to see results in about a month. In a year, it will be even better.
Paul: Dr. Prasad was very thorough and clear and made me feel very optimistic about this. So I'm looking forward to the results a few months from now.
Kerry: On the Upper East Side, Kerry Drew, Fox 5 News.
Dr. Amiya Prasad is a renowned board certified cosmetic surgeon specializing in facial rejuvenation as well as body, breast and extremity surgery. His reputation for exceptional and natural cosmetic results has made him sought after by patients who value his compassion and commitment to excellence.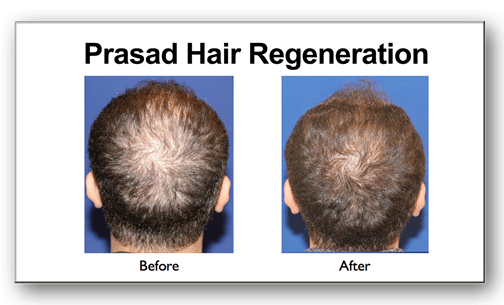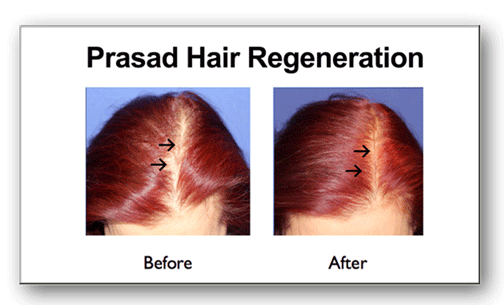 Hair Regeneration with ECM (extracellular matrix) by ACELL and PRP Updates. Dr. Prasad continues to apply his methods for regeneration for hair restoration surgery, scar revision and non surgical treatment for hair loss. View current ACell plus PRP patient results.