Since Propecia became available in January of 1998 the entire concept of medically treating hair loss has changed. Prior to Propecia's release there was only 2% Rogaineª. Rogaine, also known as Minoxidil, had only limited effectiveness, mostly to slow future hair loss. Today there are several new and exciting products either currently available or on the horizon.
Propecia – is manufactured by Merck & Co. This is by far the most effective treatment. Studies have shown up to 66% of men demonstrating some regrowth after 12 to 18 months. This product requires taking a 1mg. pill daily. It works by blocking the formation of DHT (the male hormone) from binding with the hair follicle. This appears to interrupt the development of male pattern hair loss in men. The generic name is Finasteride and is also used for prostate enlargement under the brand name Proscar. (Not recommended for women.)
Propecia was developed to treat baldness in the top back and mid-scalp. There is no current evidence that Propecia works on the hairline or recession in the temporal areas. Propecia is available in 90 pill Pro-Packs and cost between $125.00 to $175.00 and must be taken daily for the rest of your life or until more effective methods become available.
For additional information on Propecia visit: http://www.merck.com/
5% Rogaine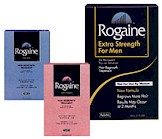 Manufactured by Pharmacia & Upjohn. This product claims 45% more hair regrowth than Regular Strength Rogaine (2% Rogaine). Although this may be true, Rogaine 2% grew very little or no hair on most people. Rogaine 2% appears to be more effective with women and is usually the first course of treatment in female pattern hair loss. (Currently 5% Rogaine is not recommended for women.)
Initial indications are that 5% Rogaine may be more effective when combined with Propecia. 5% Rogaine costs between $25.00 to $30.00 and must be used twice daily.
If hair growth is accomplished you must maintain Rogaine application or the new growth will be lost.
Tricomin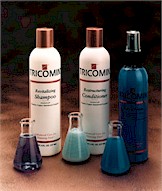 Manufactured by ProCyte Corporation. The development of the Tricomin line of hair care products evolved from years of scientific research involving copper and its relationship to skin health. Tricomin is formulated to efficiently deliver vital micronutrients to the hair follicle environment. Tricomin works by strengthening and revitalizing your hair. While Tricomin's cosmetic benefits will be realized in the short term, the added benefits of younger; fuller healthier hair may require longer use. Tricomin can be used effectively with other hair treatments including Rogaine and Propecia. Excellent for both men and women.
The Tricomin product line includes:
Revitalizing Shampoo
Restructuring Conditioner
Conditioning Shampoo
Solution Follicle Therapy Spray
-centerpiece of the product line
GraftCyte Post Surgical Treatment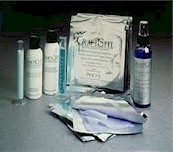 Manufactured by Procyte Corporation. For the past year Dr. Prasad has used GraftCyte Moist Dressing, Mist and Shampoo as part of our post surgical care regimen. The unique copper peptide technology has shown significantly enhanced healing and growth for the transplant patient. Dr. Prasad reported the improved healing and post surgical cosmetic appearance of patients at the recent ISHRS.
Schedule An Appointment Today!
To schedule a consultation with Dr. Prasad to determine the best procedure for you, submit the form below or call our Manhattan office at (646) 461-8547 or Garden City Long Island Office at (516) 535-9479. Our phones are open 24 Hours a Day / 7 Days a Week. Patient Financing options available for qualified candidates.